Yocan Stix Oil Vaporizer Review
Welcome to our review of the Yocan Stix Oil Vaporizer. Our team has enjoyed experiencing this discreet and portable vape pen. This review will share our thoughts and the pleasure of using this oil vaporizer. We will also share detailed insights about its design, features, and user experience to help you decide if it's the right choice for your vaping needs.
Simple And Discreet Package
Yocan Stix Oil Vaporizer arrives in a simple yet elegant package. Opening it reveals the device snugly inside, accompanied by a user manual written on the packaging. This minimalistic design adds to its discreet charm and makes it incredibly easy to carry and use without drawing unnecessary attention. It is lightweight. I used it and easily kept it in my pocket. This vaporizer felt like I was holding a writing pen. Whether you're an experienced vaper or just starting, its simple packaging sets the tone for a straightforward and hassle-free experience, making it a perfect choice for those who appreciate both style and simplicity in their vaping devices.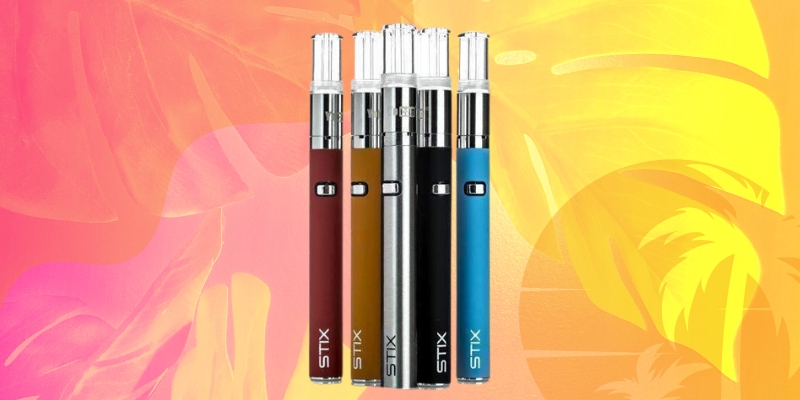 Sleek And Portable Pen-Style
I have enjoyed using Yocan Stix firsthand, and it's an absolute delight. This sleek and portable pen-style device is meticulously designed for maximum portability and stealthy operation. When I held it in my hand, I was amazed by its slender dimensions, measuring 11.2mm in diameter and 108.75mm in length. It truly epitomizes discreet and elegant vaping. Its pen-style design contributes to better experiences, and its versatility makes it perfect for on-the-go use. I genuinely love it for its style, convenience, and overall performance.
Unlocking The Secrets Of Stellar Features
Now, the following are the stellar features that set Yocan Stix apart from the competition.
Independent Oil Chamber And Mouthpiece
One standout feature is the independent oil chamber and mouthpiece. This design enhances portability and ensures a clean and convenient vaping experience. You can load your preferred oil easily. The separate mouthpiece guarantees that every hit is smooth and flavorful.
Ceramic Coil Producing Clean Vapor
I was genuinely impressed when I used the Stix with its ceramic coil that provides a hard-to-beat vaping experience. Its vapor is exceptionally clean and pure, devoid of odd tastes or unpleasant odors. What's more, the ceramic coil has staying power. It outlasts other coils, meaning you won't constantly swap them out. In short, I love this ceramic coil. It improves the entire vaping experience, and our team was thoroughly surprised by its performance.
With a coil resistance of 1.8ohm, Yocan Stix balances vapor production and battery life. Higher resistance coils like these are great for preserving your e-liquid and can provide a satisfying throat hit, similar to traditional smoking.
Adjust Voltage By One Button
Thanks to its user-friendly design, adjusting the voltage on Yocan Stix Vaporizer is a breeze. With a single-button operation, you can toggle between voltage settings to customize your vaping experience. Whether you prefer lower settings for flavor or higher ones for bigger clouds, this vaporizer covers you. The green light suggests low voltage. If you press the button three times, the voltage increases following the blue and red light. It's a great choice for both beginners and experienced vapers looking for versatility.
Micro-USB Charging For Extended Use
Yocan Stix Oil Vaporizer packs a punch, and I can't help but be impressed. Its 320mAh battery means we can keep vaping for a long time without worries. The Micro-USB charging port truly stands out as the pinnacle of convenience. No more struggling with odd cables or hunting for outlets. A Micro-USB cable makes recharging simple at home, in your car, or out and about with a portable power bank. It's a winning combo of a strong battery and no-fuss charging, guaranteeing we can vape uninterrupted, and that's both handy and dependable.
How To Use Yocan Stix?
Using Yocan Stix is straightforward. We will share a step-by-step guide for your ease.
Step 1: You need to check the charging. If the battery is low, let the vape charge first.
Step 2: Fill the independent oil chamber with your favorite oil.
Step 3: Power on the device and select your preferred voltage setting.
Step 4: Inhale and enjoy a smooth, flavorful vapor.
Our team found this device easy to use, and the vapor quality exceeded our expectations. It's perfect for those transitioning from traditional smoking to vaping.
Compared With Other Yocan Devices
| | | | |
| --- | --- | --- | --- |
| | Yocan Stix | Yocan Stix 2 | Yocan LIT |
| Battery Capacity | 320mAh | 350mAh | 400mAh |
| Voltage Setting | Low (Red), Middle (Green), High (Blue) | 3.4V, 3.8V, 4.2V | 1.8V-4.2V |
| Operation | Button | Sensor Control Via Bottom Slapping | Button |
| Compatible With | Oil | Oil | Wax And Oil |
| Cartridge Capacity | 0.6mL | 1mL | 2mL |
| Mouthpiece Material | Plastics | Ceramic | Metal |
| Coil | 1.8ohm Ceramic Coil | 1.4ohm Ceramic Coil | Quartz Dual Coil |
| Charging | Micro-USB | Micro-USB | Micro-USB |
Let's put Yocan Stix to the test by comparing it to other Yocan devices:
Battery Capacity
The Stix impresses with a 320mAh battery, just slightly lower than Yocan Stix 2, which offers 350mAh, and Yocan LIT boasts a robust 400mAh.
Cartridge Compatibility
Both the Stix and Stix 2 are compatible with oils, but the Yocan LIT Wax Vaporizer takes versatility a step further, accommodating both wax and oil.
Mouthpiece Material
The Stix features a pragmatic plastic mouthpiece, while the Stix 2 embraces a refined ceramic mouthpiece, and Yocan LIT, in its pursuit of luxury, graces your lips with an exquisite metal mouthpiece.
Voltage Setting
When it comes to voltage settings, the Stix and Stix 2 offer respectable choices, but for those who crave the ultimate in versatility and precision, Yocan LIT Wax Vaporizer truly steals the show with its extensive range.
Differences Of The Coils
The Stix boasts a substantial 1.8ohm ceramic coil. The upgraded Stix 2 opts for precision with a 1.4ohm ceramic coil, and Yocan LIT Wax Vaporizer, an embodiment of innovation, harnesses the power of a cutting-edge quartz dual coil.
Cartridge Capacity
The Stix defies convention with its slender 0.6mL tank, the Stix 2 steps up the game with an extensive 1mL chamber, and the LIT Wax Vaporizer comes with an extravagant 2mL capacity.
Yocan Stix holds its own among its counterparts, offering a balance of features suitable for oil enthusiasts.
Conclusion
Yocan Stix Oil Vaporizer impresses with its sleek design, ease of use, and clean vapor production. Our team found it a discreet and reliable companion for those transitioning from traditional smoking to vaping. If you value a discreet pen-style vaporizer without compromising on performance, it is worth considering for your vaping needs. I will give it a solid 4/5.