EVOD 4 In 1 Vape Pen Review: Discover A Perfect Vaping Match
Welcome to the all-around companion Evod 4 in 1 vape pen review. The top-of-the-line vaporizer is ultra-versatile and truly convenient in its way. I discovered the perfect match for my vaping after trying this vape kit. The 4 in 1 indicates you can seamlessly switch between wax, dry herbs, e-liquids, and oils. Moreover, it gives new heights to the hits and effortlessly fits all your preferences. A perfect vape pen should provide premium vapor quality, satisfaction, and safety. Let's go ahead and explore why you must have an Evod 4 in 1 vaporizer as a beginner or pro.
Unboxing Evod 4 In 1 Vape Pen
The packaging was first-rate. When I opened the package, I saw a top-notch, well-kept vaporizer starter kit. In addition, a user-friendly manual provides each step's details to make vaping straightforward. The kit includes the 4 atomizers which dry herbs, wax, e-liquids, and oils, a dabber, a brush tool, a 510 thread battery, and a USB cable. I felt each piece in my hands for the quality and the overall finishing evaluation. The grip gives a premium and comfortable feel. Moreover, the aesthetic and flexibility of Evod battery make the kit a worthwhile choice for any new vaper. In short, everything is top-class, from packaging to each component's performance.
Balancing Act: Weighing The Highs And Lows
I have highlighted the highs and lows of choosing Evod 4 in 1 vaporizer for you.
Pros
Aesthetic design
Overheat protection
Portability and convenience
Painless to use owing to a single button
Suited for all eGo and 510 batteries
Transparent style of MT3 Atomizer for convenient use
Highly functional for a multi-uses
1100mAh battery ensuring long-lasting use
Cons
Non-adjustable voltage
Proper maintenance is mandatory
Care is required for correct assembling
A Closer Look At The Craftsmanship Of Evod 4 In 1 Vaporizer
Diverse atomizers offered in this kit stand as a testament to its versatility, aiming to cater to the ever-evolving cravings of vapers, be it for e-liquids, dry herbs, wax, or oils. Each component has been designed and incorporated with great precision, ensuring that users get the best out of their vaping sessions. It's evident that a lot of thought and effort went into designing Evod 4 in 1, aiming to elevate the vaping experience from merely a routine to a truly immersive ritual.
Let's comprehensively look into Evod 4 in 1 vape pen artistry components – various atomizers in the kit to tailor the session per your vapor cravings.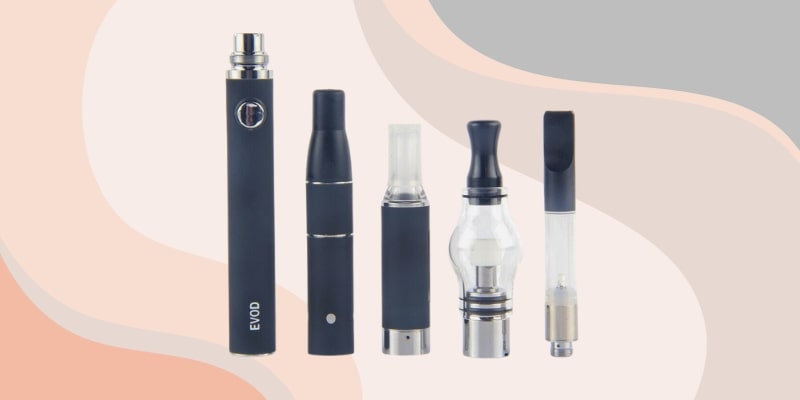 MT3 Atomizer For E-liquids
MT3 e-liquid atomizer is a cylindrical atomizer with a transparent tank – featuring an exceptional quality base and mouthpiece, suits all eGo series vaporizers. The detachable design permits effortless disassembly and convenience. E-liquid filling is easy as a breeze. This atomizer lacks the hole and cotton wick, and heating begins from the base, enhancing the e-juice vaporization. It also features the aesthetic transparent color inhaler and a visible window for a crystal clear view of the e-liquid level.
Furthermore, the MT3 atomizer's gigantic 2.4 mL capacity lessens the refilling frequency of e-liquid. Moreover, 2.4 ohm resistance contributes to delicious and mouthwatering clouds.
Skillet Tank Atomizer For Dry Herbs
For adoring dry herbs, you can use the skillet tank atomizer – the conical shape that accommodates the herbs. The exterior design of the Skillet atomizer is made up of stainless steel. Design is known for the uniform heating of dry herbs. Cleaning is easy due to the detachable mouthpiece.
Some atomizers lack the cut-off timer feature. But in the case of a Skillet tank for dry herbs, a 10s cut-off feature is added to prevent overheating problems and to serve the consistent vapors. The cutting-edge Evod vaporizer atomizer design boasts over-discharge protection and battery monitoring. It enhances reliability and extends the lifespan of this starter kit dry herb atomizer for overwhelming vapors.
Globe Glass Atomizer For Wax
Globe glass atomizer is crafted with the pinnacle of elegance and perfection for vaporizing wax. You can assemble the glass globe atomizer with an Evod 510 thread battery for relishing the wax concentrates. The flawless globe style is the ideal, unique shape that can cater to ample wax concentrates without leaking issues. Review the long-lasting constant sessions without hassles because of the 3 mL huge clearomizer capacity. Evod 4 in 1 vape pen stylish globe glass atomizer without leaks delivers the best of the best vapors. This style makes the cleaning painless and ensures trouble-free sessions owing to the detachable design.
CE3 Thick Oil Atomizer For CBD Vape Oils
User-friendly CE3 atomizer is famous for vaporizing thick CBD vape oils. The slender and chic tank is manufactured from highly durable material. The hassle-free design facilitates the user with it's plain sailing refiling. The best part is that the CE3 thick oil atomizer is compatible with 510 thread and each sort of eGo battery. A fast heating system allows the vapers to enjoy hits without waiting due to low resistance, i.e., 1.9 – 2.1ohm. You'll get dense, flavorful clouds with constant flow right after oil loading.
Extra valuable accessories with the atomizer, such as a bottom protector and rubber filler, are encompassed with Evod 4 in 1 vaporizer kit. Choose the cartomizer capacity that matches your daily consumption preference. You can choose either 0.5 mL or 1.0 mL while considering your needs. The transparent petite design of the CE3 thick oil atomizer with plastic pipe lasts longer and adds a modern look to users' vaping setup.
Evod Vape Pen Battery
Evod pen battery is compatible and works perfectly with these 4 atomizers. The lightweight elongated design comes with a single button and 510 threading for various atomizer attachments. It has numerous safety, user-friendly features to offer an easy-going, enjoyable experience. Seasoned and beginner vapers can use this vaporizer battery versatility. It simples the vaping journey by allowing users to switch between numerous atomizers.
A Step-By-Step Assembly Guide And Using Tips
Let's lead through the tips and a few crucial step-by-step assembly guides. I have mentioned some hacks below to make your vaping sessions breeze with this Evod starter kit.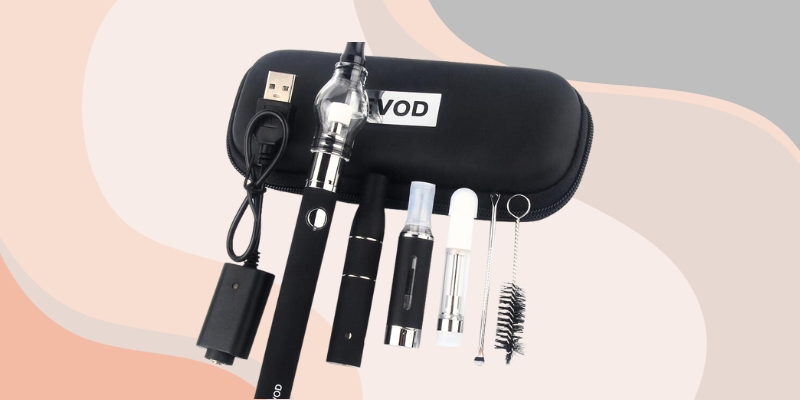 How To Use Your Evod 4 In 1
Using this vape pen is as easy as pie. You can, without waiting, indulge in e-juice, wax, dry herbs, and oils by following these steps.
Step 1: Unboxing And Recharging
The first and simplest step is unboxing the kit. You may find the USB cable included in the starter kit. Charge the device by merely plugging the given cable into the mod. Recharge it thoroughly before using it.
Step 2: Choose The Atmomizer According To Your Vaping Material
How do you use Evod pen with 4 atomizers? Pick the vaping material you wish to relish.
For instance, you can use CE3 to vape thick CBD oils. Take off the stopper and top cap. To avoid excess oil pouring, use the syringe to fill the atomizer oil chamber. Add the stopper again and fasten the top cap. Then, put the CE3 on mod and turn ON the vaporizer to commence vaping.
For wax, assemble the glass globe after loading the wax or other vaping material via the dab tool into the chamber. The coils of the globe atomizer are modest spiral pancake-type. Hold the firing button five times, and the starter kit is ready.
Attach the Skillet tank for dry herbs. Uncover the atomizer top cap and fill the stuff. Load the herbs inside the filling port. Refrain from cramming it with an excess amount. Now screw the top cap again, press the key 5 times, and head out your vaping sessions.
Note: If you need help loading the atomizers with the vaping material properly. Look at Evod 4 in 1 user manual and get a-z help from assembling to proper functioning.
Step 3: Turn On The Battery
After screwing the atomizer into Evod 4 in 1 vape pen battery, press correctly the firing key to activate the starter kit, and, within seconds, satisfy the needs with pure lip-smacking clouds.
Tips For First-Time Users
My tips will work and aid the users who are just starting vaping with the champion Evod 4 in 1 starter kit. As a first-time user, how do you fill this vape pen? Refilling is like clockwork.
At first, you'll have to spin the pen downside up. Later, unscrew the mod by rolling the base. Here, you can see the tank, which is the filling area. Now, fill that area with the product you are longing to vape. Fasten the back gently and switch ON the vaporizer for hits.
If Evod vape pen is not working, there could be many reasons. Usually, it happens when the battery is dead or because of leakage problems. Never overcharge the vaporizer, and keep the kit under or near heat. Carefully shift the liquid or vaping material into the atomizer and adequately clean with the brush tool for consistent performance.
Lastly, here I go with the tips for Evod 4 in 1 vaporizer battery recharging. Stick to the USB cable which comes with the kit. Recharging ensures that the device is kept at room temperature. Unplug the vaporizer when it's fully charged. Follow these if you want to enhance the longevity of this kit.
Standout Features Of Evod 4 In 1 Starter Kit
Let's dig into the standout features in this Evod vape pen review. The highly functional multiple atomizer types and 510 threads are worth the money. Let's uncover a few other aspects.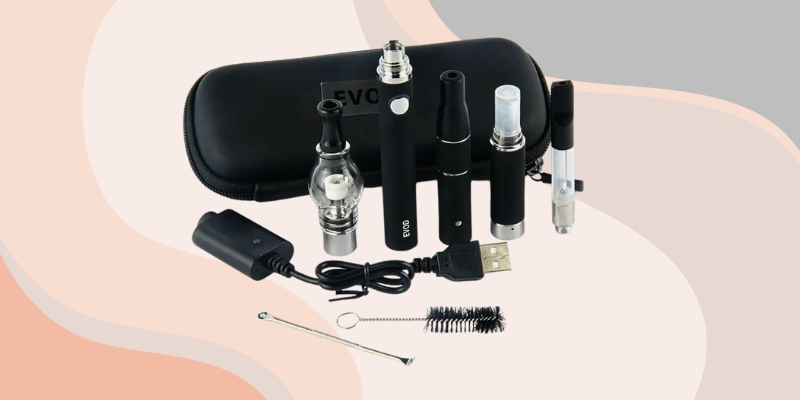 Highly Functional With Multiple Atomizer Types
For me, this Evod starter kit is not only budget-friendly but also highly functional. Its innovative style empowers the vapers to adore numerous types of vaping materials and relish the different scrumptious clouds via a cost-effective setup. Investing in different vaping pens for indulging dry herbs, oils, e-liquids, and wax concentrates is unnecessary. This kit allows me to enjoy all sorts of vaping contents with its given atomizer by simply switching.
Long Lasting Battery Of 1100mAh Battery
Evod 510 thread battery features an ample 1100mAh capacity. Its power is enough to keep you conveniently delivering the tasty vapors all day. The battery's power capacity astonished me with its exceptional daily performance. You can keep the vaporizer powered up with a USB cable.
eGo And 510 Thread Compatible
This Kangertech Evod eGo battery is compatible with any 510 thread cartridgess or eGo series atomizers designed to serve the customizable vaping journey to users. You can experience a unique taste journey like never before with Evod pen setup.
My Vaping Experience With Evod Starter Kit
Evod vape pen instructions were very helpful in assembling each component. I love the simplicity and effortless design that was advantageous in actual use. In addition, I like the quality of vapors that hit the throat courteously. Various atomizers added value to my vaping sessions by permitting me to find my favorite vaping material for my journey. You can experiment with the best vaping material flavor by assembling the easy-to-change various atomizers. I appreciate the additional accessories that this Evod starter kit provides to make the experience convenient and thoughtful.
I cherished every vaping material by switching different atomizers. First, I chose the CE3 atomizer for vaping the thick oil. The selected atomizer did justice by offering the supreme flavor and plenty of vapors every time. I also tried skillet tank, MT3, and globe glass atomizers for relishing the wax, dry herbs, and e-liquids. In brief, I am delighted with the cloud quality, density, and mind-blowing performance of Evod 4 in 1 vape pen starter kit.
Final Verdict: Is Evod 4 In 1 Your Next Vaping Companion?
The dazzling design of Evod 4 in 1 vape pen is winning popularity and is a top-tier choice for novice and adept vapers. The exquisite style and overwhelming features genuinely bowl me over. The exceptional portability and the intuitive interface offer ease of use to all users.
Furthermore, I love impressive durability, ensuring you have a vaping companion for years. 4 in 1 vaporizer brand reputation speaks loud about the trustworthiness and quality of Evod pens. Thanks to an additional layer of satisfaction with smooth hits and a long-lasting battery. I revere the budget-friendly Evod 4 in 1 vape price, which is budget-friendly.
As a new user, you can use a multi-functional starter kit. Because it comes with various atomizers that you can assemble and figure out which vaping material complements your taste buds. However, the 510 thread on the vape mod provides customization freedom by fastening any 510 design with 4 in 1 vaporizer. Available in many colorful options, pick the hue that aligns with your personality. Evod 4 in 1 vape pen is entitled 5/5 for its unmatched portability, exceptional user experience, customization options, renowned packaging, and versatility.